Variety at Work
Almost on a daily basis, requests come in from Schools, Health Visitors, Social Workers, Occupational Therapists and any other organisations who have direct dealings with families. These requests are for help with food, shoes, clothing, baby equipment and other basic needs. Variety also receive requests to provide specialized equipment for disabled children such as wheelchairs, walkers, electronic beds and special supportive buggies.
All of these requests are for children from low income families and most often single parent families. Variety pay towards educational school trips, mostly to France for children whose parents cannot afford it, ensuring no child in the class is left behind. Variety's aim is to ensure that as far as possible all children have equal opportunities. Variety hold Summer and Christmas parties for children with special needs, their parents and siblings.
If you need help, or know someone who does, please follow the Help Request link above and submit it or print it and post it to Variety – the Children's Charity of Jersey, Maufant Variety Youth Centre, Grand Route de St Martin, St Saviour, Jersey, JE2 7GT. All requests are dealt with in the strictest confidence and within 24 hours of receipt.
---
The Variety Sailing Trust exists to provide sailing opportunities for disadvantaged and special needs children of all ages in Jersey. Each year, hundreds of local children are able to enjoy and benefit from the experience of going afloat under sail.
To continue to provide this opportunity to our young people, the Trust is reliant on donations, from both corporate and the public alike.
The Trust currently operates a 38 foot Broadblue 385 catamaran called "Vernon Lilford Spirit of Variety" which had been modified to allow disabled access. The yacht provides a stable and safe platform for people to enjoy an experience at sea.
The Variety Sailing Trust work in partnership with the Government of Jersey to manage the yacht on a day-to-day basis and provide support in training skippers and crew.
For more information, please visit www.varietysailingtrust.co.uk.
HISTORY
The Variety Sailing Trust was established through the Royal Court of Jersey in 1993. The Government of Jersey Youth Service had successfully chartered a modified catamaran called "Sealegs" during that same year and was overwhelmed by the response from disabled people wishing to experience sailing. As a result, the Youth Service set about forming a Trust and, by 1994, sufficient funds were raised to purchase the Trust's first yacht, an Event 34 catamaran called "Spirit of Variety". This yacht was named in response to a large part of the funding coming from Variety – the Children's Charity of Jersey, something which continues to this day.
Over the next twelve years or so, this yacht completed thousands of miles cruising with the disabled and underprivileged. With 25 disabled sailors, this yacht took part in an ocean crossing from Jersey to St Lucia in the Caribbean in 1999.
Eventually, the Trust wore this yacht out! So, once again they began the task of raising the funds for a replacement. Largely thanks to a generous donation from the Late Elder Statesman Lord Vernon Lilford's estate, in 2007 the Trust were able to purchase their current yacht, a Broad Blue 385 named "Vernon Lilford Spirit of Variety".
If you would like further information or to book the Spirit of Variety, please email admin@varietyjersey.org.je or call the Variety Office on 01534 856937.
---
Young Star of the Year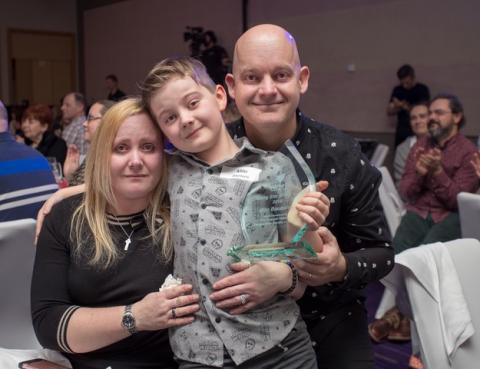 Variety – the Children's Charity of Jersey are on the look out for shining stars in the Island. These annual awards celebrate the courage, creativity, and commitment of children and young people in Jersey. The six categories for which Variety look to find a 'Star' are…
Courage Community Carer Sport Arts Academic
Aimed at youngsters aged between six and sixteen, the event is sponsored by The Channel Islands Co-Operative Society.
It is important for us to celebrate the many inspiring young Islanders

— Colin Macleod, Chief Executive Officer of The Channel Islands Co-operative Society
The public are invited to nominate the young people that they think should be recognised and rewarded. Many young islanders face adversity in their lives; this could be dealing with a debilitating illness, or helping to care for a family member. Others gladly give up their time to help others in the community and Variety is also looking for those who have excelled in an academic or creative forum.
Nomination forms are available to download or in hard copy format from all Co-operative food stores, through Island schools, youth clubs and parish halls. Prizes on offer for the winners include a fabulous top prize of an incredible £5,000 worth of travel vouchers from The Channel Islands Cooperative Society Limited, along with £500 worth of vouchers for each of the six category winners.
All the nominated youngsters are shortlisted and those final eighteen are judged by an independent panel. All the shortlisted youngsters and their families are invited to a gala awards ceremony which takes place on the 9th June 2019. The highlight of the themed event is undoubtedly the awards presentation but all attendees also enjoy afternoon tea and a memorable array of entertainment. Variety are privileged to have His Excellency Air Chief Marshal Stephen and Mrs Dalton to present the top award.
Sandra Auckland, Chairman of the Young Star of the Year says,
"It's been a long wait but I am so excited to finally open the nominations for the 2019 Young Star of the Year Awards. Variety – the Childrens Charity of Jersey, is dedicated to making a lasting difference by bringing hope and comfort to children who may be either disadvantaged or have special needs. These awards provide the perfect opportunity to recognise the many deserving youngsters in Jersey and I hope that many people will feel encouraged to put forward their nominations. This is a chance to recognise Jersey's diverse and vibrant young community, children are the future and this event is so important to encourage their ambitions and future aspirations."
Colin Macleod, Chief Executive Officer of The Channel Islands Co-operative Society says,
"The Variety Young Star of the Year Awards is always a significant event in our calendar. But the lead up to the event is just as important. This is the time when people have the chance to put forward their nominations and really make sure that every deserving youngster is recognised for their achievements. It is important for us to celebrate the many inspiring young Islanders and The Channel Islands Co-Operative Society is once again honoured to be part of this year's Awards."